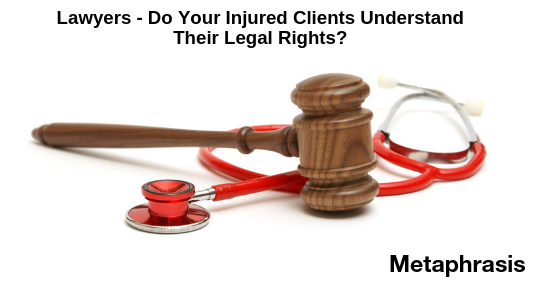 Lawyers Need Translation Services to Reach More Clients
From family matters, to workman's compensation, to business start-ups, navigating a client through legal territory can be a daunting task. When you add a language barrier to the list of challenges, these tasks can seem insurmountable. Metaphrasis offers translation and interpretation services that bridge the communication gap between the legal services you offer and the ever-growing needs of the multilingual U.S. population.
Speak the Language of Your Client
According to the 2017 "American Community Survey" conducted by the U.S. Census Bureau, the number of people who speak a language other than English at home is on the rise.
That population needs your help to understand legal issues that they face. In addition, legal systems that foreign-born residents are used to may differ greatly from those here in the United States. It's important to ensure your clients understand their legal rights and responsibilities.
Professional Translation is Key to Success 
In the judicial realm, using professional translation services is critical to avoid mistranslations, ensure political and social correctness, and guarantee confidentiality. While other resources may be available, Metaphrasis is no ordinary language service company. We pride ourselves on providing professional, quality language services, but above all we value the partnerships we make with our clients when we assist them with translation and interpreting experiences.
Translators and Interpreters for Legal Services
It's not enough for an interpreter just to be proficient in the respective language. We carefully select language professionals based on their qualifications and expertise to ensure that your face-to-face interactions are being interpreted by someone who understands the terminology specific to your industry or situation. We not only offer translation services for legal documents, but we also offer real-time interpreters who can attend your depositions and hearings.
Metaphrasis is a leading interpreting and translation company. By providing a comprehensive line of professional language service offerings, we are able to commit to our promise that Everyone Deserves to Be Understood.
To learn how we can assist you in reaching the clients who need your services, please fill out the form below or call us directly at 815-464-1423.
Source here