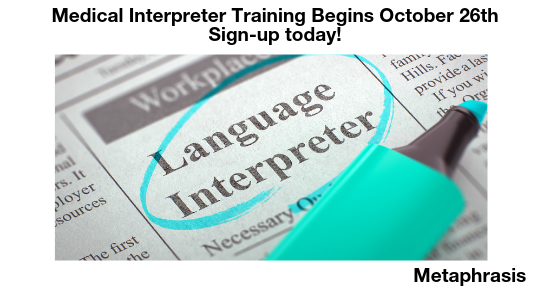 If you are fluent in more than one language, you might consider entering the growing field as a medical interpreter.  Many people enjoy this job as there are many benefits.
Professional interpreters are needed now more than ever. According to a recent report, the language services industry is going to grow 18% over the next seven years- more than double the national average! Making a small investment in your career today could produce huge returns in the future. If you or someone you know is interested in becoming a medical interpreter, now is the time to get started with Metaphrasis.
Announcing Fall 2019 Training
At Metaphrasis, we understand the vital role an interpreter plays in so many situations and we work with people like you who want to use their language skills to accomplish an important goal.  We offer valuable training programs that can prepare the right people for success in this interesting field.  We are happy to announce that registration is now open for our Fall 2019 Medical Interpreter Training.
Fall 2019 Class Dates:
October 26th & 27th; November 9th & 10th; and November 30th and December 1st, 2019 (schedule subject to change)
What do you learn in our training program?
Enroll in our brief, yet intensive, training program to become a professional interpreter, specifically in the medical field. Our training includes:
Learning the essential skills of an interpreter
Interpreter role playing
The National Code of Ethics in health care for interpreters
The National Standards of Practice for Interpreters in health care
Modules in culture and interpreting
Interpreter positioning in the health care setting & more
Led by a dynamic instructor, this training will provide the fundamentals of face-to-face interpreting as well as the specialized nuances that come with medical interpreting.
You will engage with other attendees to practice these new skills in a safe and enjoyable environment. After the training is complete, you will walk away with the hands-on experience you'll need to interpret in a healthcare environment.
What else do you need to know about the training?
Please contact Metaphrasis at 815-464-1423 to schedule your 1.5-hour appointment for the entrance exam.
Why train with Metaphrasis? 
Interpreting is more than just translating spoken words from one language to another; it involves conveying messages, cultural nuances, and promoting understanding between people from different backgrounds. Our interactive, energetic training is a fun and informative way to learn skills around becoming a professional medical interpreter.
Space is limited, so let's get started today. Please reach out at 815-464-1423 or at info@metaphrasislcs.com if you have any questions.