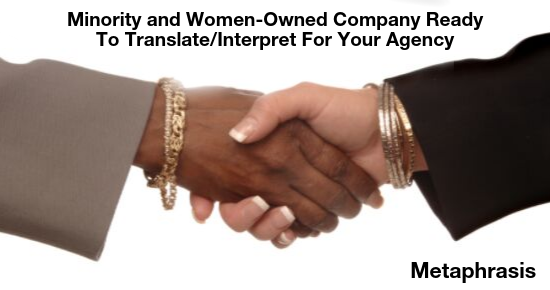 Language should not be an obstacle for those who are seeking information, service, or aid from the U.S. government. With more than 1 million immigrants arriving from various countries each year, it's important to bridge the communication gap that a language barrier creates. Metaphrasis is a diverse, minority-owned business with the experience and qualifications to provide the highest quality translation and interpretation services required by federal, state, county and city government offices.
We Are Experienced
 For over a decade, Metaphrasis has been working to break the language barrier by providing foreign language interpreting, American Sign Language, and document translation services to government agencies in over 200 languages.
We are honored that, every day, local and federal government agencies call upon us to fulfill the needs of their Limited English Proficient (LEP) and Deaf and Hard of Hearing communities.  Government organizations that have trusted Metaphrasis with their business include,
The Illinois Department of Revenue
The Department of Homeland Security
The US Department of Housing and Urban Development
The Regional Transportation Authority, & others
 We Are Qualified
 Our professional foreign language interpreters adhere to the national standards for interpreting that dictate best practices, conduct regulations, and a code of ethics, ensuring that your constituents are served respectfully and without bias.  Our professional translators will serve your organization in a similar manner, bringing with them a wide range of expertise in government matters and a commitment to accuracy, confidentiality, and data security.
Not only do we carefully select our language professionals based on their qualifications and expertise, but our company as a whole is also uniquely qualified to service government agencies. Metaphrasis is proud to hold the following certifications on both local and national levels:
Minority and Woman Owned Business Enterprise with Cook County, City of Chicago and Water Reclamation District of Chicago
Disadvantage Business Enterprise with the City of Chicago, Metra, and IDOT
State of Illinois Women/Minority Business Enterprise under the Business Enterprise Program
Woman's Business Enterprise National Certification
 In addition to our various certifications, Metaphrasis has also received numerous awards that reflect our quality of work and commitment to what we do.
 We Are Dedicated
Driven by personal experience, Metaphrasis CEO, Elizabeth Colón, has created a business dedicated to building solid partner relationships with organizations in order to enrich the lives of those who are need of a voice. The entire Metaphrasis team is committed to providing professional, quality services that adhere to her company promise – Everyone Deserves to be Understood.
Our mission to provide the best, most reliable language services will enable your organization to comply with federal language access regulations and fulfill vendor diversity program goals. Best of all, we ensure our services services are available 24 hours a day, 7 days a week.
We have a dedicated customer experience team ready to take your call, and an online scheduling portal available 24/7. Contact us to get started today.
Let's talk about how Metaphrasis can help YOUR company!  Complete the form below and someone will get back to you: