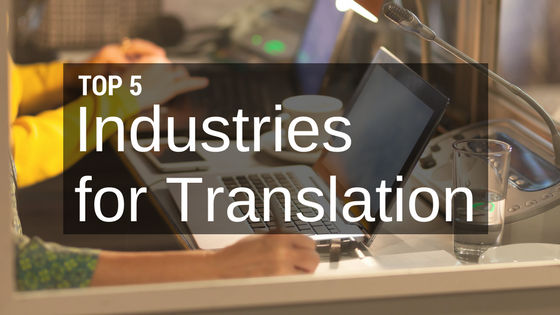 Top Five Industries Benefitting from Translation
We have been living in a digital age for a couple of decades in which global communication is more of a regularity than an anomaly now. Domestically and abroad, language and culture play a huge role in business. Communication with clients, customers and partners doesn't have to be difficult. That's where language services play a valuable part in the translation of important documents and interpreting at events and meetings.
At Metaphrasis, we see specific industries that benefit greatly from implementing language services into their business. Here are our picks for the top five industries for interpreting and translation services.
Medical Translations & Healthcare Interpreting
Healthcare is an industry where translation and interpretation is a real help. Accurate translation of medical records, patient records, leaflets, medical reports, instructions and prescription information help healthcare organizations remain compliant. Providing language access services during patient/doctor interactions is also extremely important because it not only meets Title VI requirements, but it also leads to increased patient satisfaction.
Translations for Finance and Banking
The Finance and Banking sector plays a vital role in global trading. In order to attain new customers in foreign countries and achieve high level of consistency, banking and financial services use translation services to make their communication clear and effective. Integrating language services also strengthens the relationships and trust between the customer, business associates and the financial institution. Accurate translation of financial documents, forms and transactions help ensure a better level of understanding.
Translations for Travel & Tourism
While travel is becoming more accessible (with an increasing number of both travelers and destinations), tourism professionals need to communicate effectively—in several languages—with a growing number of customers and partners. Customers are more diverse than ever and expect information to be presented to them in a way that they understand – in their language. Companies can begin by not only translating their website, but by localizing the content to provide translated descriptions, reviews and localized payment options. From hotels to travel agencies to airlines, speaking to potential customers in their language helps elevate marketing efforts.
Legal Interpreting
There have been quite a few stories in the news over the years about inaccurate interpretations of witness testimony leading to improper verdicts. Having a qualified professional interpreter available in a courtroom or deposition setting can have a positive impact on the outcome of a legal case and on someone's life.
Website Translation Services
Undoubtedly, this is one of the fastest growing areas for translation for both B2B and B2C companies. When visitors can get the information they are searching for on your website, in their language, the purchase process is going to be faster and easier for them. 63% of global business have increased their customer numbers by offering multiple website languages. Offering translated content can result in increases in marketability, enhanced website traffic, more conversions and help your business take advantage of rapidly growing global market.
If your company or organization falls into any of these industries and you are considering translation or interpreting services, here is what you need to consider when choosing a language services company. First, make sure you understand what goes into the translation process. Working with a professional language company will help you avoid pitfalls of trying to cut costs and sacrificing quality. We recommend you read our past blog post on "The Real Cost of Not Professionally Translating Marketing Materials" to reveal some common issues companies face when they choose a partner based solely on price.
Interested in a free evaluation of your translation or interpreting needs? Let's Get in Touch!