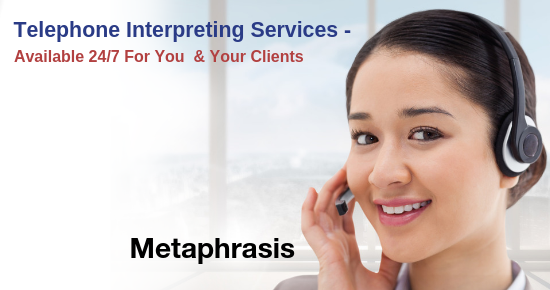 Whether you are speaking to a global audience or a local population, communicating in the language of choice is critical to growing your business.
Your clients and customers must feel understood.  In today's age of technology, having access to reliable, convenient language translation services is easier than ever. From healthcare, to schools, to government agencies, businesses that offer translation services to their ethnically and culturally diverse clientele now have multiple delivery options.
Telephonic Interpreting Service Anytime, Anywhere

Interpreting needs don't always involve people in the same room and aren't always easy to schedule in advance. At Metaphrasis, we believe that location, timing and access should never be barriers for being understood. That is why, in addition to in-person, we provide on-demand telephonic interpreting services so that you can have an interpreter serving your needs, 24 hours per day, 7 days per week.
Advantages of Telephonic Interpreting

While each method of interpretation has advantages, the benefits of telephonic translation include:
•       Speed- in many cases, calls can be connected in less than one minute.
•       Cost-effective- as you are only charged for the time you spend on the phone with the interpreter.
•       Accessibility- telephonic services are usually available in any setting with a strong cell phone signal or land line availability
•       Real-time expertise- skilled, knowledgeable interpreters are available in real-time.
•       Convenience- telephonic translation is available on-demand, 24 hours a day, 7 days a week in over 180 languages.
Get Started with Metaphrasis

 Curious how telephonic interpreting works?  Call us at 815-464-1423 & we'll explain!
Metaphrasis is a leading Chicago interpreting and translation company. By providing a comprehensive line of professional language service offerings, we are able to commit to our promise that Everyone Deserves to Be Understood. We only utilize the most qualified interpreters and translators.
For additional information, please call us directly at 815-464-1423.
Additional information referenced here
For More Information about our 24/7 services for your company, simply complete this form and we will get back to you soon!