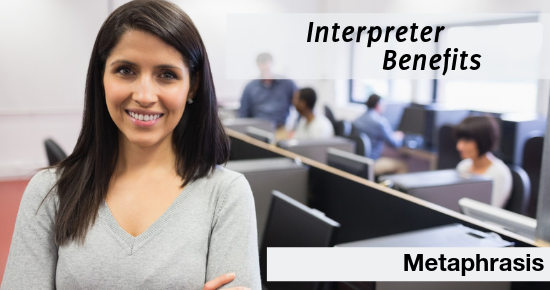 What Are The Benefits of Becoming an Interpreter?
The essential role of an interpreter is to translate spoken content or information from one language to another.  If you are fluent in more than one language, you might consider entering this growing field, as there are many benefits to enjoy in this line of work.
Growth Potential
As our culture continues to become more diverse and business becomes more globalized, businesses have realized the increasing need for interpreting and translation services.  This has resulted in an ever-increasing demand for people with advanced language abilities and has placed interpreting as one of the nation's top emerging job options.
Interesting and Varied Work Assignments
Interpreters are being sought for work in a variety of fields.  Healthcare providers such as hospitals, doctors' offices or rehabilitation facilities call on interpreters to increase understanding between patients and providers.  Educational interpreters can enhance the relationship between parents and educators, and allow for better communication, such as when a teacher needs to reach out to a parent when a child is sick or for an IEP meeting.  Government agencies have an increasing need to rely on interpreters to better serve the public and build stronger relationships within communities.  This is just a small sampling of possibilities, and the variety of work opportunities that are available to interpreters will continue to grow as demand increases.
Rewarding Work
The job of an interpreter can be extremely rewarding, as they can really make a difference in a person's life.  When a person does not fully understand a language, the interpreter becomes their voice.  Helping patients accurately convey their symptoms to their doctor, or understand their diagnosis or treatment options….playing a part in a student's success in the classroom so they are prepared for their future….helping someone understand their rights in court….the responsibilities of an interpreter can be big, but the rewards can be even greater.
Training Classes Starting Soon
At Metaphrasis, we understand the vital role an interpreter plays in so many situations and we work with educated, qualified individuals that want to use their language skills to accomplish an important goal.  We offer valuable training programs that can prepare the right people for success in this interesting field.  Call us at 815-464-1423 to learn more or to get information on our upcoming interpreter training opportunities.
Want to reach us?  Fill out the form below and we will get back to you!
Referenced article here