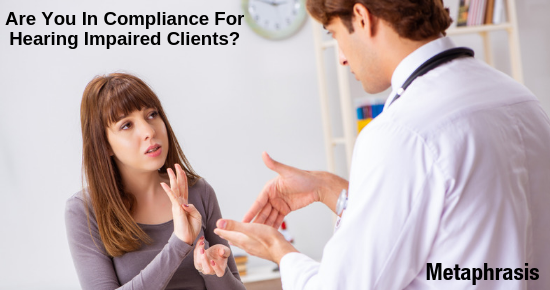 According to the National Institute on Deafness and Other Communication Disorders, over 37 million adults age 18+ in the U.S. report some type of trouble hearing. People who have hearing loss can have difficulties navigating the hearing world. Everyday activities that some people take for granted—such as talking on the phone, sitting at a meeting, traveling, or even going to a movie, can present difficulties for someone with hearing loss.
Compliance Required for Businesses and Organizations
Equal access is an important issue for deaf and hard of hearing individuals. In particular, clear communication is critical in situations that require understanding around complex issues like legal or medical advice. Businesses and organizations must take action to ensure they are meeting the needs of hearing impaired clients.
According to the U.S. Health and Human Services department, "The landmark Americans with Disabilities Act ("ADA" or "the Act"), enacted on July 26, 1990, provides comprehensive civil rights protections to individuals with disabilities in the areas of employment, public accommodations, State and local government services, and telecommunications." This means that qualified individuals with disabilities should be accommodated in order to provide them access to U.S. services and programs.
American Sign Language Interpreting
Metaphrasis has been offering American Sign Language (ASL) interpreting services Since 2012,. ASL interpreting is a service which involves a trained professional using ASL to interpret spoken English into ASL for the client with a hearing impairment and then relaying what is said in spoken English in return. This method ensures that all parties are able to communicate clearly and effectively, particularly in the medical environment.
Metaphrasis Understands ASL and Those Who Speak It
Our founder and CEO, Elizabeth Colón, has two family members who grew up with hearing loss. She witnessed firsthand how the lack of access to interpreting services affected their lives. Metaphrasis is proud to offer ASL interpreting services because our team sees what a positive impact it has.
Are you in need of ASL interpreting for your organization? Metaphrasis is the answer. The sooner you open the channels of communication for your clients, the better. Contact us or call us at 815-464-1423 and let's get started.
Source Here